FRQGEN is a DDS-based function generator for general use.
It has an attractive 2x16 LCD display with white characters on blue backlight.
It can generate a square, sine, or triangle signal from 1Hz to 25MHz with 1Hz step.
It has two outputs:
One covers 1Hz to 60KHz with built-in AF amplifier, giving an adjustable output upto 6W/8 Ohm.
The second output goes from 1Hz to 25MHz, giving standard level 500mV @200 Ohm.
From the menus, one can selet the output frequency (each digit separately for speed) set the signal shape (square, sine, triangle), save up to 100 frequencies in the memory for quicker access. Four-button keyboard or rotary encoder for input.
High quality PCB with double-sided plated thru hole 1.6mm FR4.
Operating voltage: 9-15VDC @800mA maximum.
PCB Dimensions: 7cm (H) x 5cm (L) x 3.5 cm (D)
---
Specifications (subject to change without notice):
---
Frequency Range: 1Hz – 25MHz.
Min. Frequency Step: 1Hz
Outputs: 1 for up to 60KHz (AF amplified), 1 for up to 25MHz (auxilliary)
Audio Level: Adjustable via on-board trimmer for up to 6Watts / 8 Ohm
Supply Voltage: 9 - 15V DC @ 800mA max.
Dimensions: 70mm (H) * 50mm (L) * 35mm (D max)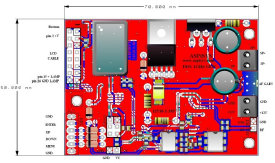 FRQGEN (DDS Frequency Generator 1Hz - 25MHz)
ASPiSYS
Design and Development of Electronics and Software Systems