LogLock Mini
Stand-alone
Low-cost access control and/or attendance system.
External or internal installation (with only the reader on the outside).
448 Users
5733 most recent accesses. Auto-truncates oldest accesses to make room for newer ones.
1020 time zone entries (254 zones). Very flexible scheduling for any conceivable day-of-week and time combinations.
Ethernet connectivity (optionally, RS-232 instead of Ethernet).
View log for certain people and/or certain periods.
The "WHO's in" list lets you view which users are currently logged-in.
The "LAST" list shows last actions for each user.
Keep entry / exit or both open continuously (e.g., garages during rush hours) while registering access.
Dual-strike capability makes it suitable for garage or similar installations where there may be two lanes to control (e.g., barriers), one for entry and one for exit.
Optional automatic 'rush-hour' enabling of the barriers without disabling user logging.
Option to block user entries when no 'boss' is in.
For additional information, please read the brochure and/or User Manual, or contact us.
Key Features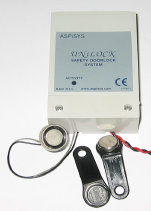 ASPiSYS
Design and Development of Electronics and Software Systems